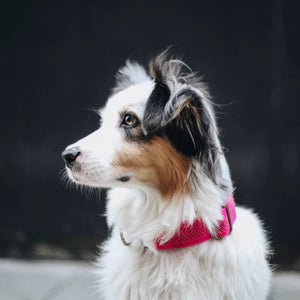 The Rella collection was inspired by our beautiful rescue pittie (Mozza)Rella. This playful and stylish collar is extra durable, the perfect collar to help you lead your eager pup with ease.
Is this the right size for your dog?
- Medium:
* length: 14-18 in
* width: 1.5 in
- Large:
* length: 16-24 in
* width: 1.5 in
A martingale collar is made with two loops. The larger loop is slipped onto your doggy's neck and a lead is then clipped to the smaller loop. When your pup tries to pull, the tension on the lead pulls the small loop taut, which makes the large loop smaller and tighter on the neck, preventing escape. Properly fitted, the collar will be comfortably loose when not in use.